Research and Markets' latest report, The Global Wireless M2M Market (5th Edition), highlights the connected enterprise and big data analytics as two of the main trends that will shape the global wireless Machine-to-Machine (M2M) industry in 2014 as utility meters, vehicles, security, payment, medical devices and other machines become networked.
In the coming year, we can also expect to see an increasing number of small to medium sized enterprises (SMEs) taking advantage of wireless M2M communications, and M2M growth in emerging markets.
Other key trends involve significant M2M growth in the Asia-Pacific region, increased connectivity via short range technologies such as WiFi, customised applications and the continued formation of industry partnerships.
M2M for businesses of all sizes
Although M2M is still considered to be a technology for large enterprises and the public sector, the trend is changing dramatically. According to an interesting study commissioned by Vodafone, titled The M2M adoption barometer 2013, small to medium sized enterprises (SMEs) will account for an increasing percentage of total M2M device connections. Driving this trend is affordability which will improve as M2M solutions become less expensive to implement at the application layer, and as more operators and service providers start to offer end-to-end solutions.
Of the 653 companies surveyed in the Vodafone study, 26% of large organisations (with more than 10,000 employees) said they have already adopted M2M compared to just 12% of SMEs. Over the next 12 months, we will see a shift in this trend as small organisations overtake larger organisations for the very first time with 34% of SMEs indicating that they will launch their M2M initiative over the coming year, compared to just 18% of large organisations.
Industry analyst firm, Analysys Mason, also believe that while larger organisations lead the way today, by 2015 smaller enterprises will be in front, utilising their agility to their advantage. Excluding connections in the utilities sector, which is dominated by large enterprise purchasers of M2M solutions and a large number of low-revenue connections, the proportion of SME M2M connections will increase from 14.6% of total connections in 2013 to 24.6% in 2023, representing a CAGR of 33%.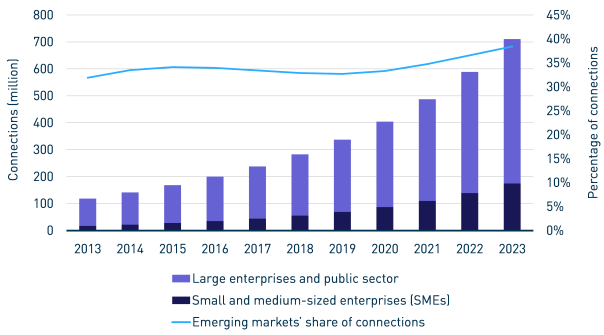 Figure 1: M2M device connections by size of enterprise, and emerging markets' share of connections, 2013–2023 [Source: Analysys Mason, 2013]
M2M growth in emerging markets
The number of M2M connections in emerging markets will also begin to increase by 2015 as costs decrease and operators look to increase their number of connected customers. The developed markets' share of connections will decline from 68% to 62% during the forecast period, according to Analysys Mason's new report, M2M device connections and revenue: worldwide forecast 2013 to 2023.
The report also states that while running an M2M business carries a higher risk that traditional mobile and broadband businesses, M2M solutions in the utilities, automotive and security sectors will have more simply understood business models by 2016.
Tailored solutions
Sitting at the very top of Verizon's recently released list of key enterprise technology trends for 2014 is "the ability to tailor a customer's experience to best meet personalized, individual needs." Easily tailored solutions, such as NetComm Wireless' open platform M2M devices with SDK, will be a key brand differentiator, giving businesses the flexibility to interact with customers on a personal level.
Short range growth
The most commonly quoted M2M growth forecast is Ericsson's 50 billion connected devices by 2020. While hundreds of millions of these devices will be individually connected to wireless networks, the majority will be connected via short range technologies - such as WiFi and Zigbee - using a wireless M2M WiFi router with the capacity to connect large groups of sensors and other devices simultaneously.
According to Machina Research, short-range technologies, mostly WiFi, will dominate M2M, accounting for around 73% of connections in 2022.
Although the revenue generated from M2M connections generate significantly less than an average consumer connection, operators are becoming more aggressive in the M2M market due to large expected volumes. Carriers will increasingly focus their attention on how to exploit their network and M2M platform infrastructure to support the use of M2M devices that are not directly connected to a cellular network.
Godfrey Chua, from Infonetics Research, said:
"What's often overlooked about M2M is that it will be delivered to the world by way of a portfolio of access technologies. Cellular networks represent the most meaningful revenue opportunity for operators, but by far the most popular way to connect to M2M services is via PAN (personal area network) wireless technologies, such as WiFi, Zigbee, Bluetooth, and IP500, which do not generate connection revenue. It's critical that mobile operators incorporate a broader view of the various M2M access technologies into their M2M strategies."
Asia-Pacific M2M growth trend
Another current and future trend can be seen in the growth of M2M in the Asia-Pacific region with  Asia-Pacific market now overtaking Europe and the Americas in terms of technology adoption. According to the Vodafone, 62% of organisations in the Asia-Pacific expect to have launched their M2M initiative by 2015, compared to just 35% in America. Research firm Berg Insight also agrees that the Asia-Pacific region is deploying M2M at the fastest rate with subscribers in the region increasing by 64% to reach 34.5 million at the end of 2011.
NetComm Wireless' portfolio of open platform wireless M2M devices with SDK (Software Development Kit) facilitate SIM, cloud and device management services, and give businesses of any size the freedom to develop their own M2M applications to help monitor and manage remote assets at any location.